All You Need to Know About the Hiawatha Bike Trail in Idaho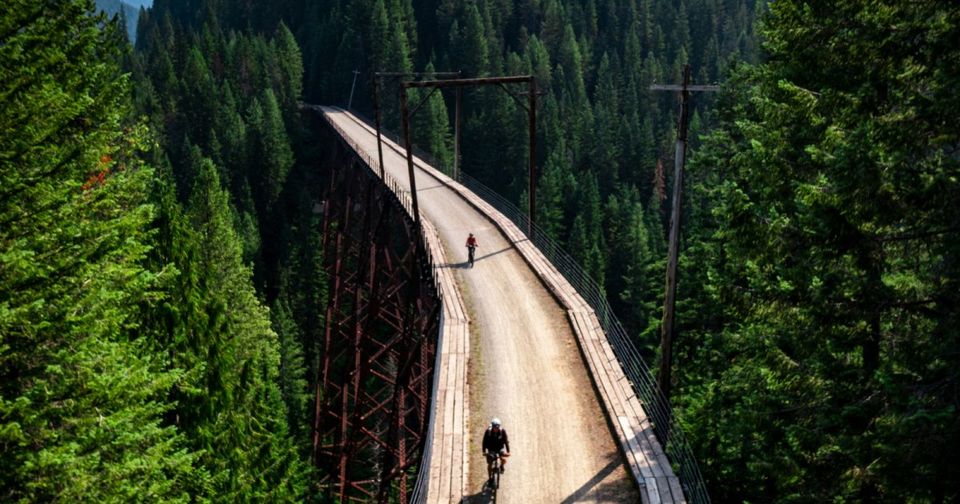 If you're in search of an exceptional biking adventure that combines awe-inspiring views, rich history, and a hearty dose of fresh air, look no further than the Hiawatha Bike Trail in Idaho. This former railroad route turned scenic bike trail offers riders an experience like no other. In this blog post, we'll delve into everything you need to know about this gem nestled in Idaho's breathtaking landscape.
Trail Overview
The Route of the Hiawatha bike trail is a 15-mile journey through the Bitterroot Mountains on the border of Idaho and Montana. This converted section of the historic Milwaukee Road railway takes you through ten train tunnels and across seven sky-high trestles, the longest of which spans an impressive 1.66 miles. The trail's highest point is 4,160 feet, ensuring a thrilling journey amidst stunning mountain vistas.
Rich Historical Context
The Hiawatha bike trail is steeped in history. The rail line, originally constructed between 1906 and 1909, was considered one of the most electrifying achievements of railroad engineering of its time. When biking the trail, you'll spot historical markers that provide fascinating insights into the railway's storied past.
Preparation and Safety
The Hiawatha trail is largely downhill and suitable for all ages and abilities, making it a popular family activity. However, you'll need a mountain bike or a sturdy hybrid bike due to the gravel surface. A light source is also essential as you'll be venturing through tunnels, including the 1.66-mile long St. Paul Pass or Taft Tunnel.
Remember, safety comes first. Although it's a non-technical trail, be sure to wear a helmet. And because the weather can change quickly in the mountains, carry layered clothing and rain gear.
Accessibility and Operations
Typically, the trail opens from late May to late September. Shuttle bus services are available to take you back to the top of the trail, and bike rentals can be found at the Lookout Pass Ski Area located just off I-90 at the Idaho/Montana state line.
Tickets and Passes
Riding the Hiawatha trail requires a trail pass, which you can purchase online or at the trailhead. Children under 6 ride for free, and there are discounts available for military and groups.
What to Expect
Expect to be awed! The scenery along the Hiawatha bike trail is incredibly diverse, encompassing vast forests, mountain peaks, and rugged canyons. Be prepared for wildlife encounters - sightings of deer, moose, and even bears add an element of excitement to the trail.
In conclusion, the Route of the Hiawatha bike trail is more than just a bike ride. It's a historical journey set amidst some of the most picturesque scenery in the United States. Whether you're an avid cyclist or a casual rider, the Hiawatha trail promises a remarkable adventure that will leave you with lasting memories. Happy biking!